Effort Woodstock
Effort Woodstock is an AR compatible thumbhole stock made from wood and reproduced by a commercial stockmaker. Bell & Carlson no longer make their AR thumbhole stock, which was also fitted to the Remington R-15 series. The Anderson Manufacturing rifles exported to New Zealand now use this cute number which I've been unable to locate.
The thumbhole stock will not only reinforce the lower receiver behind the rear lug pin, it will also locate the buffer tube without threading it into the plastic receiver. The AR buffer tube channel is quite difficult to drill, so the buffer tube channel would have to be exposed on one side t'other or from the top. This would take someone who has made stocks before to design, make, and then send a finished stock to a commercial stockmaker to be kept as as a pattern for reproduction.
We are currently seeking a volunteer to slice up a perfectly good Bell & Carlson and convert the buffer tube well into a buffer tube channel, so that it can be reproduced by the good folks at CRS. Once you volunteer, we will endevor to obtain a Bell & Carlson thumbhole for a reasonable price. If you like destroying perfectly good gun parts, drop us a line - a picture of our email address is at the bottom of the Home page.
NZGuns on ARFCOM was nice enough to post in this thread this delicious pic: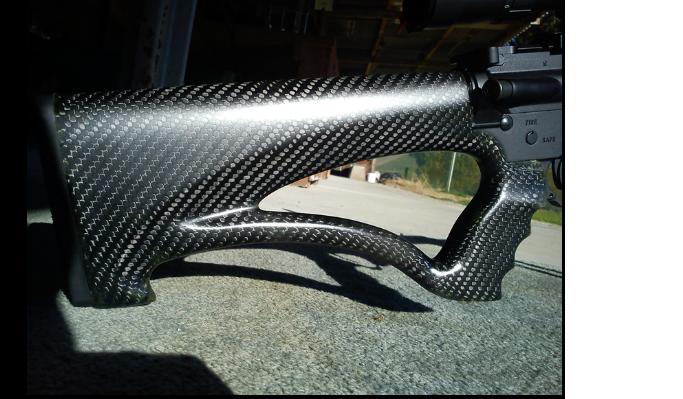 Gun City in New Zealand have a nice collection of AR thumbhole stocks. They've written me back, and are quite happy to ship their fine New Zealand manufactured AR thumbhole stock. You may contact them here.
A good looking, albeit discontinued, DPMS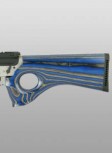 Exactly what we need, for only $570